As one of the oldest media studies programs in the world, the School of Media Studies remains committed to its core traditions and strengths: the interaction between media meaning, making, and management. Our breadth, flexibility, and integration has helped us to prepare students to work in myriad fields — as media makers and managers, as critics and curators, as artists, academics and activists.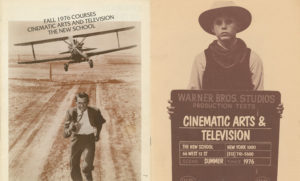 The School of Media Studies is at once a hub, laboratory, and playing field for the interaction and communication of ideas across many disciplines and endeavors. It houses a range of intellectual fields and practices for the understanding of media, ranging from historical and philosophical inquiry, to artistic exploration, and to entrepreneurial and management processes. Integral to the School of Media Studies' overall orientation is a commitment to pushing the boundaries of media study and production through spirited engagement with its evolving forms and contexts. Each program or path of study explores traditional disciplines alongside emergent technology and new media approaches.
The school offers students curricular options that are highly personalized, customizable and interlinked. Thus, students may choose to be either generalists or specialists, and create clusters or follow laid-out sequences of courses. In general, the curriculum teaches students to work across media formats, theories, and methodologies seeking the right "tools for the task," whether that task is academic, creative, or professional. Students in the School of Media Studies are socially engaged scholars, makers and innovators, and the curriculum is designed to accommodate a wide range of personal and career goals.