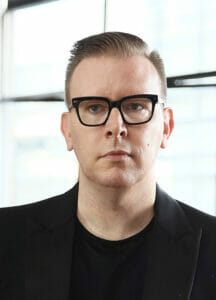 The Museum of Arts and Design (MAD) announces the appointment of Terry Skoda as Interim Director, effective immediately, and the election of two new members to its Board of Trustees—art collector and entrepreneur Lorin Gu and art enthusiast and philanthropist Alexander Mason Hankin.
Since joining the Museum in January 2019 as the Barbara Tober Deputy Director for Institutional Advancement, Skoda has helped spearhead an Endowment Campaign, raising $22 million; secured $10 million in annual operating funds; strengthened the Museum's financial position; built a thriving Patrons and Young Patrons program, attracting seasoned and new philanthropists to the MAD community; and acquired emergency funding through government sources and foundation grants during the COVID-19 shutdown. Skoda joined MAD after fifteen years at The New York Botanical Garden (NYBG), where he served as Executive Vice President for External Affairs. While at NYBG, he oversaw a three-year, $200 million comprehensive fundraising campaign, which included a one-year, $30 million endowment component. Also, during Skoda's time at NYBG, he helped realize several acclaimed exhibitions that combined art and nature, including CHIHULY; Frida Kahlo: Art, Garden, Life; and Georgia O'Keeffe: Visions of Hawai'i.
Prior to joining NYBG, Skoda spent several years at Ahold, a global grocery retailer, as part of the team that transformed the traditional retail environment into the interactive, digital experience it is today. He holds a Master's in Media Studies from The New School and a Bachelor's in Communications from Pennsylvania State University.