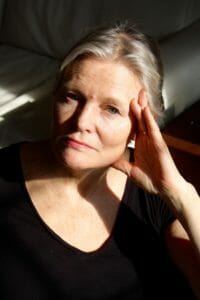 The Hirshon Residency was conducted online because of the Covid 19 pandemic.
One of the most distinctive voices of the independent film movement of the last 20+ years, Mary Harron made her debut as a feature-film writer / director in 1996 with I Shot Andy Warhol. The film won star Lili Taylor a Special Jury Award at the Sundance Film Festival, and garnered Independent Spirit Award and London Film Critic Circle nominations for best first feature. This was followed by American Psycho in 2000, starring Christian Bale, The Notorious Bettie Page in 2006 and The Moth Diaries in 2011. Her most recent film Charlie Says, debuted in September 2018 at the Venice film festival and was released in Spring 2019. Harron has also directed some highly distinguished TV dramas, including episodes of The L Word, Oz and Six Feet Under, as well as the entire award winning Netflix series Alias Grace.
Throughout her work, Harron has been investigating stories about women in history, particularly the twentieth century, and how their lives have changed dramatically, depending on which era they came of age. Using the theme "The Past is Another Country" Harron shared her filmmaking process with New School students and engaged in a discussion of her work with Vladan Nikolic, Dean of the School of Media Studies, and with the online audience through a Q+A.
"This residency gives me a chance to stand back from the tumult of production and consider some of the questions that have preoccupied me in the last 25 years about creating stories about women—and sometimes men—in history," Harron said. "I'm excited to hear what the students have to say about these ideas and to learn from them."
The program has been recorded and is available here: